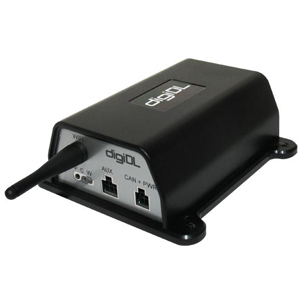 Designed for companies who have drivers and vehicles spread across the country, as an aid to offer full flexibility as the vehicle can transfer data from any location.
With the Compass DigiDL installed in your vehicle(s) you can setup a schedule for download of both the driver card and the vehicle unit.
All of this is handled in the background and files can be passed straight to your corporate network or to your nominated analysis provider. The DIGI-DL is compatible with many different analysis providers.
Seamlessly download Tachograph data from your vehicles over WI-FI or GPRS
It is a legal requirement to download data from both the vehicle's Digital Tachograph Unit and the driver's card. This is a time consuming process and can represent a logistical nightmare when drivers and vehicles are spread across the country.
The digiDL makes a connection via WI-FI or GPRS to the Internet and in turn to your Company Card(s) via your service provider or your own network. The process authenticates as if the Company Card were in the vehicle. digiDL can now perform a download and passes the file(s) to your analysis provider via WI-FI or the GPRS network.
Key features
Remote download of any EU compatible Tachograph
Remote authentication of Company Card
Supports multiple WI-FI networks
Centralised, scheduled downloads
Secure and encrypted data transfer
Send data to a nominated server or your own server
Automatic firmware update
Download via CAN-Bus
Remote download of Driver Card & Vehicle Files